BBA/B.Voc
Best BBA/B.Voc College in Delhi NCR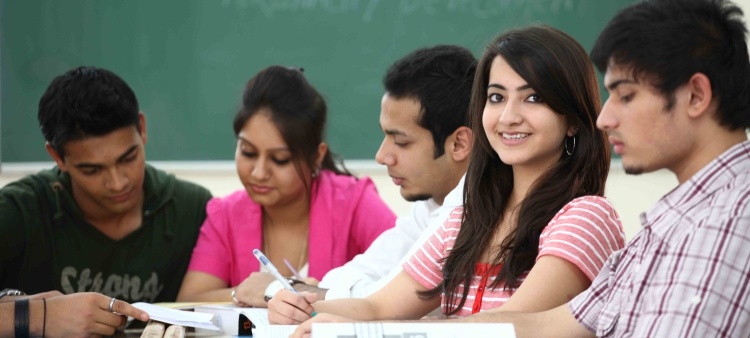 Introduction
Indian economy has witnessed tremendous growth in the last three decades. With the opening up of the economy in 1991 and subsequent nod given to FDI by the Indian government, the country has had the advantage of using the skills, technology and knowledge brought in by the foreign campanies. There is, consequently, a change in the skills demanded of the workforce by the modern enterprises. The traditional man-oriented style of working has given way to automation and processes that now control both the production and pace of work. Every sector in the economy including Banking, Retail, Telecommunication, Automobiles, Insurance, and Manufacturing has now become customer centric- prioritizing customers' needs and speedy service through skilled manpower.
Having sensed the need for new sets of skills and capabilities, the management schools started upgrading the curriculum to adjust to the changing requirements. While the managerial activities at small enterprises are the sole responsibility of owners, the responsibility for the management of multinational companies and large scale organizations is given to a hierarchy of skilled and certified professionals. The updated curriculum, therefore, imparts not only the technical know-how but also focuses on the all new skills demanded by the modern businesses. The upgraded curriculum also gives a huge boost to those aspiring to start their own ventures. The students are given specialized guidance in how to convert their nascent ideas into full-fledged profitable business ventures. The Best BBA/BVOC College in Delhi NCR, JIMS offers a pedagogy that focuses not only on the intellectual development but also equally on the skill development of its students making them competent to face challenges of the corporate world.
Management Education for the future
Future Organizations will become more flexible and transparent, with a focus on project-based relationships and business sustainability. Leadership will become more horizontal and shared as increased social and external collaborations breakdown the traditional hierarchical model. Management of the future will essentially be a management of change. There is a gradual shift from the long cherished traditional practices to the ones which are modern and unconventional. Technology, automation and research are some of the other words that drive the processes of the 21st century conglomerates. This dynamic, ever-changing and technology driven world of business, thus, demands of the professionals not just sound conceptual knowledge but also an attitude that enables easy adaptation to the changing environment. These are professionals who would be guided in future not by their hunches but by the facts derived from careful analysis of data thus making research the base for sound decision making. A strategic merger of research, technology and strategy is what will ultimately define the conglomerate of tomorrow. To get trained as a professional in the skills related to research, technology and strategy, one must enroll himself in BBA/BVOC course in Delhi and one of the best colleges for BBA offering excellent exposure to the students in all areas of management is JIMS, Vasant Kunj II.
Course Objective
A three year program at JIMS Vasant Kunj II is an intensive, rigorous and selective course designed to provide each student with the intellectual and professional tools needed to assume positions of higher responsibility. The program is focused on developing a strong foundation for business fundamentals and enhancing conceptual skills to understand the basics of problem solving and encourages students to develop their own unique style of leadership. To be successful in this programme, a person needs enthusiasm , commitment and a willingness to not only work hard but learn new ways of thinking and implementation. The management programme at JIMS equips the students with the required skills, knowledge and attitude to efficiently discharge supervisory responsibilities in the ever growing business and corporate sector. This course helps in attaining a level of competence that permits a person to deal with all aspects of business transactions.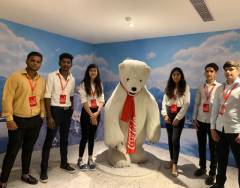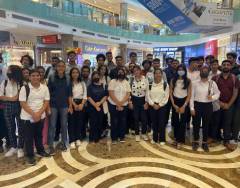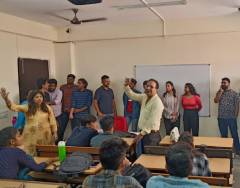 Course curriculum
The programme at JIMS is designed around a set of modules that are common to all pathways. These modules cover general business functions, strategic management and organizational analysis. These modules also guide an aspirant towards the achievement of the generic graduate goals of strategic awareness, developing leadership potential and understanding the theory and practice of business
Semester-I

| Skill Component | General Component |
| --- | --- |
| Business Mathematics | English & Communication Skills |
| Micro Economics | Computer Applications |
| Business Accounting | Principles of Management |
| Foreign Language-French-I | |
Semester-II

| Skill Component | General Component |
| --- | --- |
| Business Statistics | Environmental Studies |
| Macro Economics | Business Environment |
| Cost Accounting | Retail Management |
| Comprehensive Viva-Voce | |
| Foreign Language-II | |
| *MOOC I | |
Semester-III

| Skill Component | General Component |
| --- | --- |
| Marketing Management | Business Communication |
| Management Accounting | Legal Aspects of Business |
| Business Research & SPSS | Human Resource Management |
| Community Services Project Report & Presentations | |
Semester-IV

| Skill Component | General Component |
| --- | --- |
| Organizational Behaviour | Management Information System |
| Income Tax | International Business |
| Financial Management | Buying Merchandising |
| Comprehensive Viva-Voce | |
| *MOOC II | |
Semester-V

| Skill Component | General Component |
| --- | --- |
| Production & Operations Management | Business Policy & Strategic Management |
| Corporate Tax & GST | Business Ethics & Corporate Social Responsibility |
| Corporate Grooming & Personality Development | Entrepreneurship Development |
| Investment Analysis & Portfolio Management | |
| Summer Internship Report & Presentation | |
Semester-VI

| Skill Component | General Component |
| --- | --- |
| Personal Financial planning & Wealth Management | Business Analytics |
| Project Management | Management of Industrial Relations |
| Visual Merchandising & Store Management | International Marketing |
| Comprehensive Viva-Voce | |
Pedagogy
BBA Course in Delhi with a unique pedagogy:
A Smooth transition from the Campus to the Corporate...
To achieve the goal of imparting management education consistent with the demands of the industry, the BBA department of the college ensures that there is fine balance of theory and practice in every class. Industry experts from various fields of management are invited every month to interact with the students on latest practices being followed in the corporate world. Industry visits are organized to provide an insight into the manufacturing processes, quality control and compliance mechanisms in place in manufacturing units for various products. The students are also put through a rigorous, two-month internship program to master the skills required to perform in the industry. Soft skills and personality development programs are organized with special emphasis on polishing communication skills, developing leadership qualities, teaching time management, cultivating the art of right delegation and grooming the candidate, in general, for giving his best in the industry. Learning gradually the finest nuances and various aspects of business activity, the student is transformed into a professional with sound management ability. In addition to this, the college placement cell is actively involved in matching the talent with the requirements raised by the industry for various positions. The in-house Group discussions, extempore and Mock interview sessions prepare the students for facing the most challenging of the selection procedures.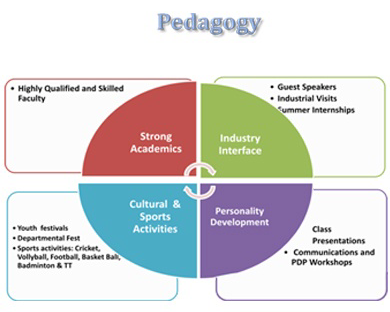 Policy Guidelines for Vocational Courses
1. INTRODUCTION
The University Grants Commission (UGC) has launched a scheme on skills development based higher education as part of college/university education, leading to Bachelor of Vocational (B.Voc.) Degree with multiple exits such as Diploma/Advanced Diploma under the NSQF. The B.Voc. programme is focused on universities and colleges providing undergraduate studies which would also incorporate specific job roles along with broad based general education. This would enable the graduates completing B.Voc. degree to make a meaningful participation in accelerating the Indian economy by gaining appropriate employment, becoming entrepreneurs and creating appropriate knowledge. The Jagannath University, NCR offers B.Voc. in the field of Retail Management, IT & Software Development, Interior Design, Hotel, Hospitality & Catering Technology and Journalism & Mass Media to the eligible students who are interested in pursuing Bachelor's Degree in Vocation, Diploma and Advanced Diploma. The University syllabus has two parts, general education and skill component. The skill component is covered by Skill Knowledge Provider. Jagannath Institute of Management Sciences, Vasant Kunj II is an AICTE approved SKP. This SKP has signed an MOU with Jagan Nath University, NCR for conduct of the skill component of the syllabus.
2. COURSE STRUCTURE
The certification levels will lead to Diploma/Advanced Diploma/B.Voc. Degree to be offered by Jagannath University, NCR the Following table shows the various certifications and their duration:
| NSQF Level | Skill Component Credits | General Education Credits | Total Credits for Award | Normal Duration | Exit Points / Awards |
| --- | --- | --- | --- | --- | --- |
| 4 | 18 | 12 | 30 | 1 Semester | Certificate |
| 5 | 36 | 24 | 60 | 2 Semester | Diploma |
| 6 | 72 | 48 | 120 | 4 Semester | Adv. Diploma |
| 7 | 108 | 72 | 180 | 6 Semester | B.Voc Degree |