BID
B.Voc Interior Design / BID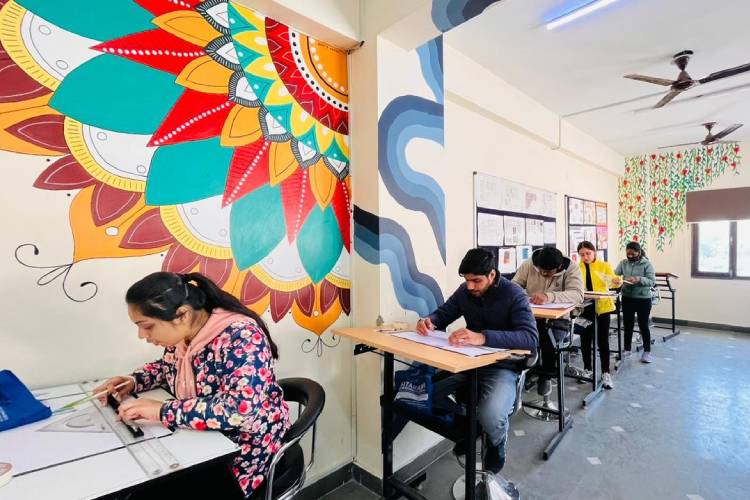 Introduction
Interior design is a combination of Art, Design and Science, a career in this field promises a bright future that is creative as well as lucrative. An interior designer aims to create aesthetically pleasing spaces that are functional as well as healthy with respect to the environment. The profession has different facets that include concept development, color study, material survey and keeping up with market trends, planning a space to its maximum usability etc. JIMS, one of the top Interior Design College in Delhi NCR, offers a 3-year degree program for undergraduate students.
Interior design education for the future:
People now are more aware about the importance of the spaces they are living in and how it affects their mental wellbeing and productivity. Interior design professionals are updating their skills with respect to green spaces, climatic conditions and to use a resource that doesn't affect the earth. This creates a need in creating an updated teaching methodology in Design education and that is something that JIMS at Vasant Kunj, Institutional Area aims towards. It is essential to work closely with the industry and the Interior College strives to make that interaction an eminent part of an interior design students education. This Interior Design course in Delhi will also open up different and creative career opportunities for our students that help them as well as our society grow.
Course Objective
The three year program by South Delhi Interior College aims to create creative and responsible designers who can create aesthetic and functional spaces that are comfortable to use for its occupants. The best Interior design college in Delhi offers undergraduate course with affordable Interior Design fees structure and latest curriculum. The B.Voc ID program is focused at developing strong foundation in space planning and design and encourages students to develop a signature designing methodology. Interior design program provided by JIMS equips the students with updated skills that will let them create a mark in this ever-growing industry.
Achievements
Students from JIMS, VK-II installed an art installation called "Healing in Progress" and won the award for the best concept 2021. Winning the 'best concept award' award is a certificate of excellence for students. It is not just an award; it is the indicator of quality and perfection in design and Winners were felicitated during the FOAID Awards Ceremony.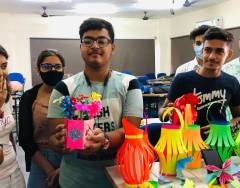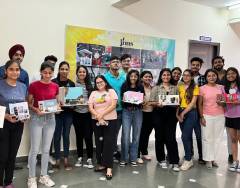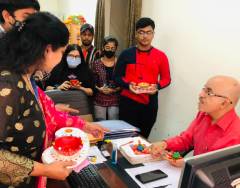 Course curriculum
Semester-I

| Skill Component | General Component |
| --- | --- |
| Title | Advanced Multimedia in Management |
| | Interior Design Studio-I |
| Communication Skills | Building Materials & Technology |
| Art & Architecture History | Basic of Drawing and Graphics |
| French-I | Elements of Interior Design Management |
| | Basic of Drawing and Graphics |
Semester-II

| Skill Component | General Component |
| --- | --- |
| Furniture's & Fixtures | CAD-I |
| History of Furniture | Interior Design Studio-II |
| Graphic Presentation Technology | Construction Techniques & Technology-I |
| | Live Project Management |
| French-II | Portfolio Assessment |
| | Total |
Semester-III

| Skill Component | General Component |
| --- | --- |
| Environmental Studies | CAD-II |
| Building Services Management-I | Interior Design Studio-III |
| Estimation Costing & Accounting-I | Furniture Design-I |
| | Summer Project |
| | Interior Construction& structures |
Semester-IV

| Skill Component | General Component |
| --- | --- |
| Climatic Design | CAD-III |
| Building Services Management-II | Interior Design Studio-IV |
| Estimation Costing & Accounting-II | Live Project Management |
| | Portfolio Assessment |
| | Furniture Design-I |
Semester-V

| Skill Component | General Component |
| --- | --- |
| Landscape Design | Revit Architecture |
| Elements of Services & Technology | Interior Design Studio-V |
| Vastu | Visual Merchandising Management |
| | Internship |
| | Furniture Design-IV |
Semester-VI

| Skill Component | General Component |
| --- | --- |
| Entrepreneurship Development | Revit Architecture |
| Design Decision Process Management | Interior Design Studio-VI |
| Elements of Marketing Research | Live Project Management |
| | Portfolio Assessment |
| | Furniture Design-IV |
Pedagogy
Is a student designer on a long road to becoming an industrial professional?
Our teaching methodology aims at shortening the time required for a student designer to be a specialist. We strive to achieve this with an updating teaching methodology and increasing the interaction of our students with the industry during their course. The course curriculum is curated so that it matches the industrial standards and the current design concerns. The student is groomed and equipped with updated material & construction techniques. This is followed with a 3 month internship that gives them a taste of the design world. Industrial, exhibition and showroom visits are also integrated into the curriculum which also enables the students to make professional contacts with vendors.
JIMS provides a skill based pedagogy that can put our students on a fast track in design industry with a combination of studio sessions both manual and digital, workshops, surveys, personality development, portfolio and interview training.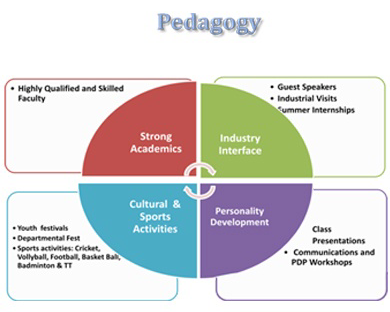 Policy Guidelines for Vocational Courses
1. INTRODUCTION
The University Grants Commission (UGC) has launched a scheme on skills development based higher education as part of college/university education, leading to Bachelor of Vocational (B.Voc.) Degree with multiple exits such as Diploma/Advanced Diploma under the NSQF. The B.Voc. programme is focused on universities and colleges providing undergraduate studies which would also incorporate specific job roles along with broad based general education. This would enable the graduates completing B. Voc. degree to make a meaningful participation in accelerating India's economy by gaining appropriate employment, becoming entrepreneurs and creating appropriate knowledge. The Jagannath University, NCR offers B.Voc. in the field of Retail Management, IT & Software Development, Interior Design, Travel, Tourism & Hospitality sector and Journalism & Mass Media to the eligible students who are interested in pursuing Bachelor's Degree in Vocation, Diploma and Advanced Diploma. The University syllabus has two parts, general education and skill component. The skill component is covered by Skill Knowledge Provider. Jagannath Institute of Management Sciences, Vasant Kunj II is an AICTE approved SKP. This SKP has signed an MOU with Jagan Nath University, NCR for conduct of the skill component of the syllabus.
2. COURSE STRUCTURE
The certification levels will lead to Diploma/Advanced Diploma/B. Voc. Degree to be offered by Jagannath University, NCR Following table shows the various certifications and their duration:
| NSQF Level | Skill Component Credits | General Education Credits | Total Credits for Award | Normal Duration | Exit Points / Awards |
| --- | --- | --- | --- | --- | --- |
| 4 | 18 | 12 | 30 | 1 Semester | Certificate |
| 5 | 36 | 24 | 60 | 2 Semester | Diploma |
| 6 | 72 | 48 | 120 | 4 Semester | Adv. Diploma |
| 7 | 108 | 72 | 180 | 6 Semester | B. Voc Degree |